On thursday night, right after Topshop was opened in Amsterdam, Arnhem became the fashion hotspot again. There the fashion crowd (and many moms, dads, brothers, sisters and friends) gathered for the graduation show (one of a total of 5 shows!!) of 22 ArtEZ students. In a warm, sold out and fully packed show area, which is part of the Arnhem Mode Biënnale, we witnessed one and a half hour of some great ArtEZ fashion.
The collections of all 22 students couldn't be more diverse. From childrenswear (Cleome Clements) to minimalistic (Sanne Schepers)- and survival (Jarwo Gibson) wear, from skinhead styles (Tom Nijhuis) to asymmetric items (AnneMarie Keizers) and from on trend fashion (Zonia van Uden) to over the top, structured designs (Annie Bosman); a perfect mix of signatures and styles.
ArtEZ seemed especially proud of talents like Linda de Jong, Anne Bosman (structured menswear), Mattia Akkermans (bright designs, crazy styling), Magnus Dekker (a collection made out of flags) and Sanne Schepers.
Linda de Jong presented some extraordinary selfmade fabrics. She showed a lot of knitwear and even used plastic in some of her Chanel-inspired designs.
Another great collection was made by Sanna Schepers. Sanne showed skirts and tops, which were scecretly attached to each other. Her designs looked simple, but in fact were made out of some difficult constructions.
A graduation student who really stood out too is William Tan. His designs (he showed so many looks) were perfectly tailored and his prints were stunning.
All these students proved they have a clear vision of their own style and potential. They also know how to turn 6 or 7 looks into a collection, which not everyone can.
ArtEZ received a Grand Seigneur this month; a corpus award for people/companies in the fashion industry and judging from some of the great collections we saw this award was well deserved.
Check out the gallery below.
As the last fashion academy Artez held it's graduation show last Friday. And the saying last but not least does apply here, cause we saw a lotttt of talent.
It was probably the hottest day of the year. Yet the 38 degrees didn't stop the students, the models and everyone else involved from delivering a great show.
Kris Berden
Kris Berden was one of the students who proved to understand fashion. Her collection was fully built around pleats in al kinds of shapes and size. They were there on a skirt, a top and a dress, which were all in black. The pleats came back in Berden's grey coats. One ultra-thin and slightly transparent, the other somewhat thicker. All outfits looked great, but maybe the jute top and the black transparent 'cape' could have had some pleat-details as well. That way the collection would have been slightly more cohesive.
Britt Tan & Fred Farrow
Two students really dared to experiment with their graduation collections. Britt Tan and Fred Farrow both used a great variaty of colors, materials, shapes and techniques. Britt Tan showed us a bright yellow jumpsuit, a loose knitted orange dress, a skirt made out of all kinds of different pieces of fabric with frayed ends. Her models all wore head scarves. Fred Farrow came up with a few light-colored coats. He used some trenchcoat-inspiration and showed one example with fur and checks. He mixed his coats with printed, colored skirts and tights. On all looks loose pieces of fabric were hanging.
We appreciate the fact that Tan & Farrow both showed some gut with their experimental collections. Yet we feel there collections could have been more cohesive and better tailored. Cause both collections came across as a little messy.
Lotte van Schijndel
Before Lotte van Schijndel's the models started walking they all stood still on stage in a certain pose. We then could already see some great designs. Lotte van Schijndel made a collection with a classic feeling. Loose clothes, long silhouettes and plain fabrics. The blouses and coats were all without buttons. A few waistcoats gave the models some shape. There was no fuss; Van Schijndel didn't add anything unnecessary. And that's a good thing cause minimalism is hot in fashion these days!
Piotrek Panszezyk
Piotrek Panszezyk took the hottest fashion item of the moment, the jumpsuit, and gave it a whole new classy image. He gave all (of his many) designs a feminine, classic twist by adding some sort of airy trail to them. He showed one in black, one with lace on the sides, one white, one red, one purple. All looks varied slightly from each other, yet were still an obvious collection. The only misplaced item was an animal printed fur design. It didn't look feminine or classy and had no connection to the rest of the collection. One other thing we didn't understand were the loose ends on – for example – the olive green short and the collar of the purple outfit. But altogether Panszezyk's collection was pretty impressive.
Melissa Siegrist
One last great collection we want to highlight was that of Melissa Siegrist. She designed womenswear with a very masculine touch. She mostly used grey and showed some perfectly-tailored shorts and blouses. She gave her collection a sporty vibe by adding polo's and shorts made of jersey fabric. And her transparent pair of navy-colored pants just fit in perfectly.
Preceding the Fashion Institute Arnhem show the winner of the Sache Golden Heel Award was announced. Sacha and the FIA teamed up to write out a show design competition. The winner of the Golden Heel Award is Julia Eichler with her shoe "Anita".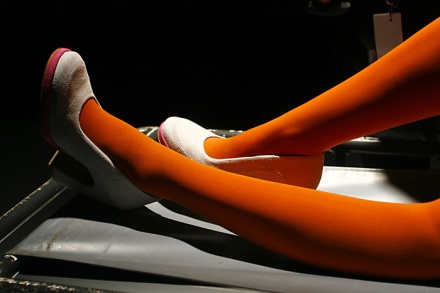 Julia Eichler's winning shoes: Anita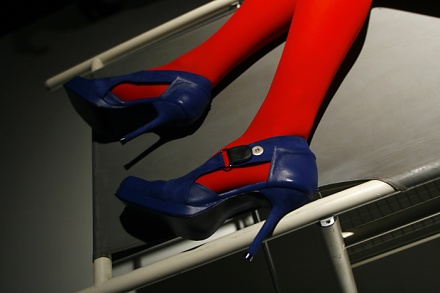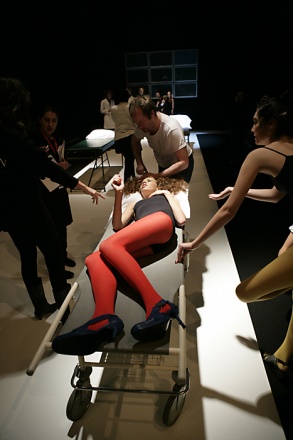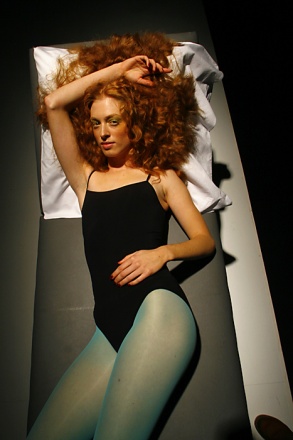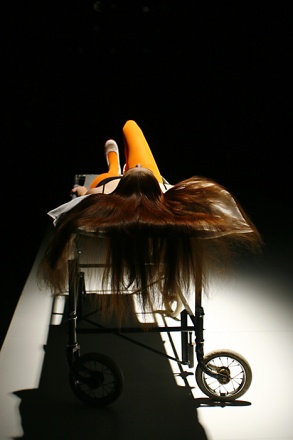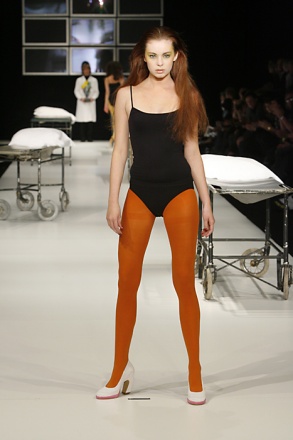 Individuals – Take it easy
Soft colours. Bulky knitwear. Easy pieces. And a focus at long dresses, long coats and wide trousers. They know how to design clothes at the AMFI but we missed a little firework, though. Sorry guys!