For years and years (decades perhaps) wearing a tiny heel was the least sexy thing a woman could do. I remember having read multiple articles with famous/fashionable women stating that the one fashion No Go they could think of was: wearing shoes with a short (below 2 inches) heel. High heels represented sexiness, power and fearlessness, so who would want to be caught walking on medium length heels? I did and I still do. I may be short, high heels just don't work for me. They make me walk (stumble) awkwardly and they give me less confidence instead of more. Boy, am I glad times have changed and current shoe trends are possibly the most comfortable they have ever been. I mean sneakers, loafers and kitten heels are all over the cat- and sidewalks. And it's those fifties style kitten heels that the biggest fashion lovers/unfluencers/social super stars are embracing the most. That J'aDior kitten heel with open ankle might be the it-shoe of the moment (if there ever was any). Besides, Prada, Loewe and Céline are celebrating the comeback of the lower heel too. This summer we can strut around WITH confidence yet WITHOUT painful feet. Comfy yet sexy. How about that high heel lovers?
(Tess, 1.64m)
We'd seen Lady Gaga (walking the Marc Jacobs fall/winter show) tumbling on shoes even more bizarre and towering than this. But for Marc Jacobs to make this kind of shoe statement was rather surprising. Patent leather, platform soled and preferably worn over the knee. The kind of shoes only David Bowie would know how to pull off. Yet as crazy as they may look, other designers like Margiela, Balenciaga and Westwood walked the same shoe path leading up to one of this season's shoe trends; the patent leather ankle boot with a chunky heel. It might be a far cry from Marc Jacobs' catwalk shown shoe porn, but at least you know where it all started. Release your inner Spice girl. These patent leather, platform boots were made for walking.
Forget pumps and sandals with peeptoes (well, not completely), this season is all about the peeptoe (ankle) bootie. Whether laced up, leather, cloglike, fringed, suede, metallic looking, mesh inspired or decorated with fur; there's no denying this trend and with so much variation there's probably a version for any fashion lover. Maison Martin Margiela, Gianvitto Rossi, Fendi, Sophia Webster, Rag & Bone, Pierre Hardy and Jimmy Choo have some strong ones in their collections. Now you might be thinking..
What the peep is this shoe trend all about?
But after you've browsed through our gallery there's only one thing on top of your wishlist.. Show some toe, have a lovely summer with happy feet!
For all the ladies who've had enough of those damn high heels, we have good news! Flat shoes are back in fashion. And we're not talking about shoes with a more subtle heel. No we're talking about no heel at all!
Especially the sandals are more flat than ever. A pity for the smaller ladies, but the good thing is it – literally – keeps you quite down to earth. Opt for the ballerina look like Chloe, Miyake and Oscar de la Renta or choose some sunny sandals as shown in fashion shows of Alberta Ferretti, Bottega Veneta, Derek Lam, Diesel and Anna Sui.
The best part is those sandals come in every color and style. So you can easily mix 'n match your colorblocking, masculine or minimalistic clothing style with your shoes. And since they're affordable and super comfy there's really no excuse not to want a pair of those easy chic shoes of your own.
The first day in Milan we shot the new collection of V&R bags and shoes.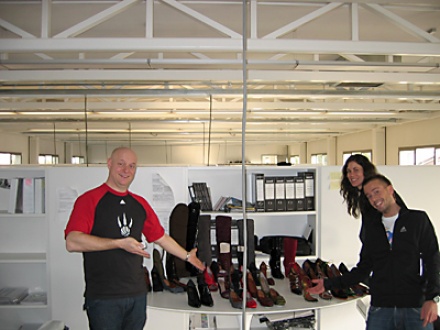 Peter, Stephanie and Joris with some of the shoes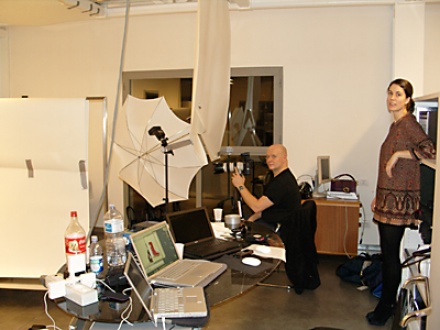 The shooting setting