Francisco van Benthum formed a perfect start of our Friday evening. He presented us with a strong, cohesive, masculine collection (titled CON-STRUCT), which had a little something for every men with a desire to look fashion minded yet not too trendy. Socker scarves and socks worn with slippers; Francisco's models might have been dressed up as fashion hooligans, they looked stylish nevertheless. In a color palette of red, white, black and grey all fall/winter musthaves made their appearance. Sportive and tough bomber jackets, trenchcoats, pleated pants, leather sweaters, crispy white shirts and structured sweaters paired with super small ties, black suits, double breasted coats; they were all there with a special focus on outerwear. All perfectly tailored, color coordinated and styled. As the collection build up, the music got stronger too. Graffiti prints popped up on several items. 'Stop the repression choose freedom' was Francisco's message, but even without his call for freedom his clothes had more than enough to say. The story of well dressed men ready to hit the office, a family get together, a fancy party or just the streets of any global city.
It was a great come back of Francisco van Benthum at levitra viagra online Amsterdam Fashion Week.
Francisco van Benthum – Marlin S/S 2014 from Team Peter Stigter on Vimeo.
Scuba-diving and the underwaterworld, both prints and materials inspired Francisco van Benthum for his collection 'Marlin'. Not too literal though. He presented looks to manipulate the silhouet. Series of certain fashion pieces, like the menswear shirt shown in five different ways (as a blouson, jacket, statement buy online viagra shirt and even a coat). Other clothes showed the ability of "morphing", like an oversized pair of pleated pants that can be worn in many different ways. Materials were comfortable and summer proof. Neopreen, the ultimate scuba fabric, was used as more of a jersey for several sportive coats. Black and white prints popped up alternated with an outerspace-like blue and purple version that really brought some of the black, grey and green looks to live. Lots of Van Benthum fans in the room, so there's no doubt this collection will do well.
This spring Francisco van Benthum announced he was going to start two extra clothing lines, one casual 'FVB' and one chic 'Van Benthum'. Of course his main line 'Francisco van Benthum' stays. In fact this week he showed his latest spring/summer collection of that line in Paris.
The collection started with some completely white outfits. Loose pants with fully buttoned blouses and sleeveless tops that felt kind of sporty. Then some grey coats were added, all with a different shape, but still with a sporty touch.
The models walked on sandals, colored white, grey and yellow. And though it's a fashion no-go, they did wear socks in them.
The second half of the show the yellow, grey and white were replaced by some beige, green and black. Francisco took some risks by combining sleeveless tops with small waistbelts and ties. He also introduced a red striped (beach-chair?!) print.
Altogether the collection was a modern mix of sporty/casual outfits. And as always it was clear Francisco had been experimenting a lot with volume and proportions. We're not so sure if the men-waistbelt will become such a huge hit, but everything else looked quite wearable. Plus, our men don't have to hit the gym for next summer. 'Cause with all those loose-fitting designs you'll hardly see that extra five kilos.
One of the good things of Dutch designer Francisco van Benthum is that he refuses to give up. He believes in himself and his power as a designer, and that deserves a lot of respect. Especially in these days, where big labels with big money try to blow you away when they can. Francisco presented a collection which showed a more classic side of his signature. His softer, fluid silhouet still exists with a more rounded shoulder for jackets, but he added some British flavor with cropped jackets in a small Higgins-check, slim dinner-jackets and cardigans. He mixed the formal with the casual – and addded also some sportswear. Hopefully he'll find some clients who appreciate his love for fabrics and design. He deserves it.
There's hope guys – Francisco van Benthum
There's really hope for all those young men searching for great, modern clothes! Francisco van Benthum – for the first time showing under his own name instead of  WOLF – presented a very mature yet cool menswear-collection inspired by Dutch fishermen and sailors. HOPE is the theme of his new autumn/winter '08-'09 collection, and it seems this guy is ready for his international debut in Milan.  Highlights: razorsharp suits. beautifully soft knitwear, airy coats and a great mix between sportswear and uniforms.
Celebration – Orson + Bodil
Alexander van Slobbe celebates 20 years in fashion this year. Not only with a book and exhibition but also with a beautiful wintercollection full of (reworked) classic Orson + Bodil designs. Simplicity reigns at van Slobbe and all outfits have that  hint of luxury couture. Highlights: a black dress with nude-colored collar, full skirts and embroidered voile partydresses.
Pictures below.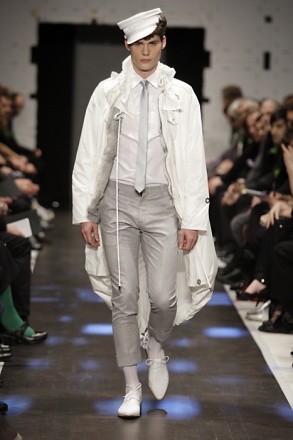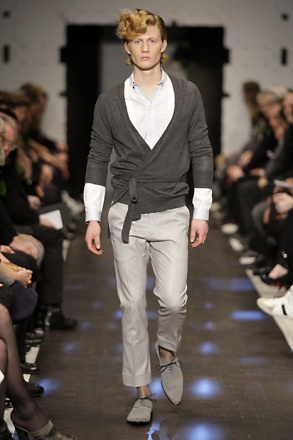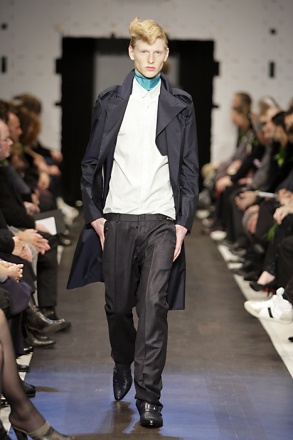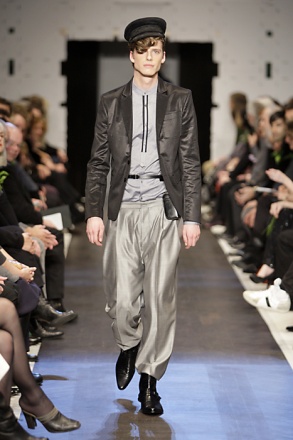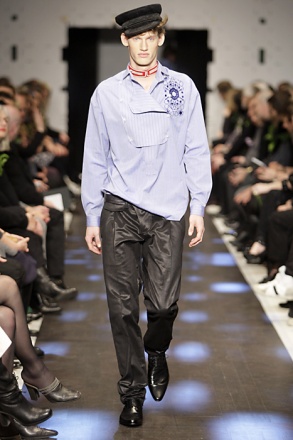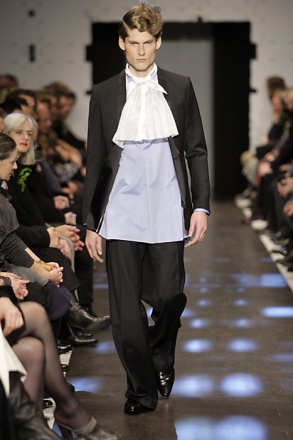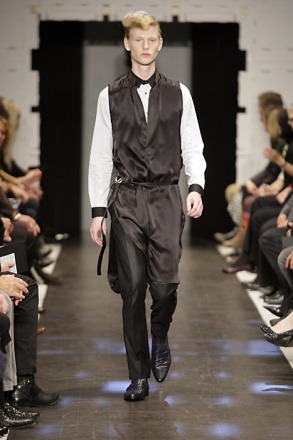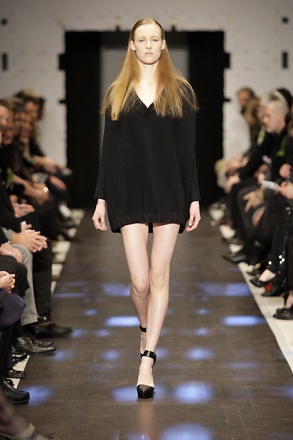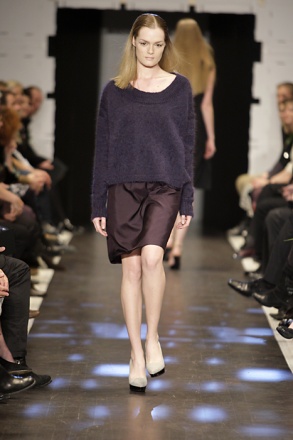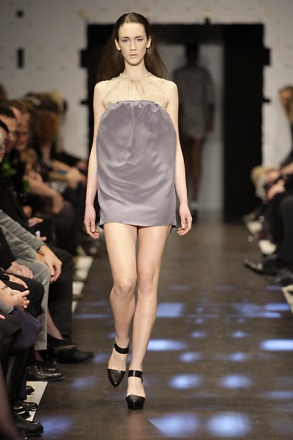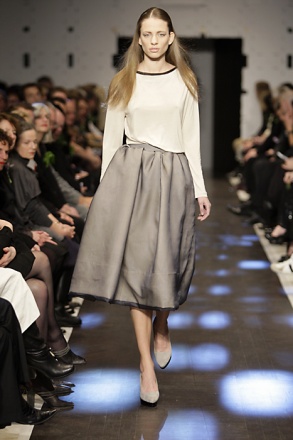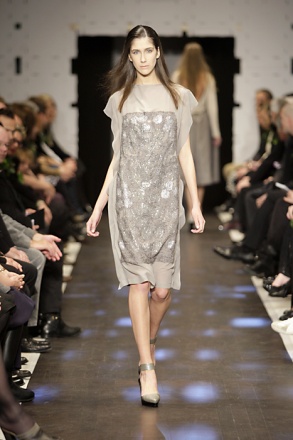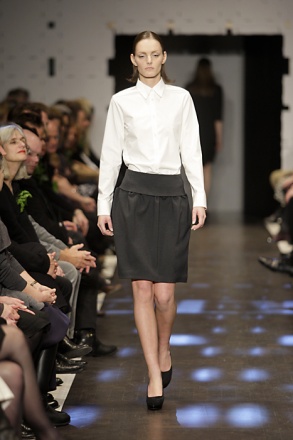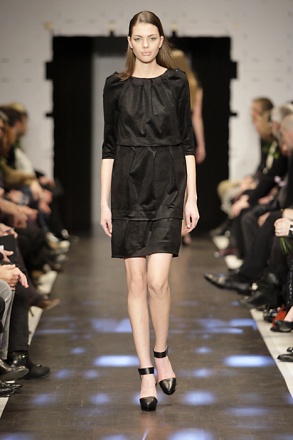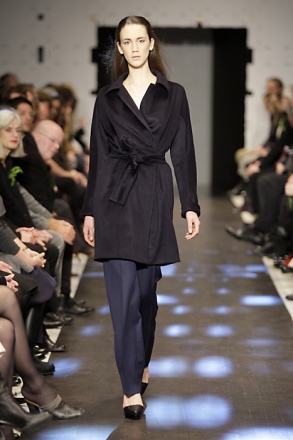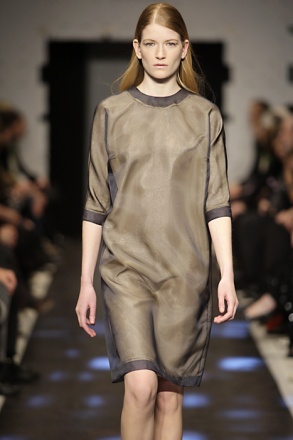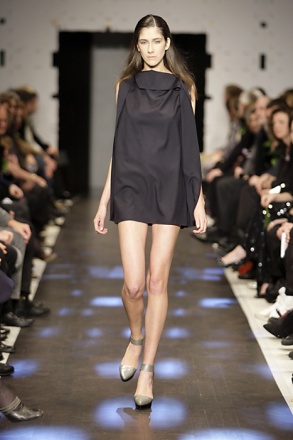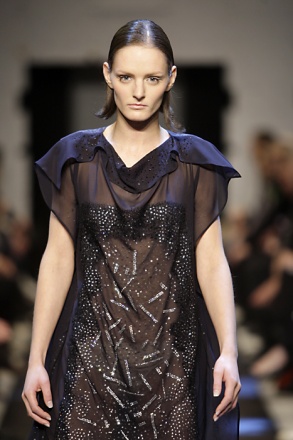 Then it was on to the works of designers Alexander van Slobbe and Francisco van Benthum who have worked together since they started their joint project Hacked in 2014. Hacked is a reaction to our fast fashion society, a desire to change the fashion system from the inside out by hacking it's different parts, one by one. After having focused on brands, the production proces and sale points the designers now thought it was time to tackle the next big thing in the classic fashion infrastructure: fashion week.
Fashion week needs a big transformation, according to Van Slobbe and Van Benthum. So the show was a big shout-out to everyone from inside as well as outside the fashion industry. Letting them know the system doesn't function anymore and brands can not keep on producing clothes for a target audience that is slowly diminishing and will soon no longer exist.
As a contrast Hacked by_ wants to show it's approach and focuses on the design, the production proces and the wearer of a certain piece of clothing. Qualities that matter so much more nowadays, instead of the classic fashion show that was still able to seduice it's audience. It's about storytelling and Alexander van Slobbe and Francisco van Benthum told a lovely fashion story tonight. That of roomy raincoats, highly desirable (commercial) sweaters, wearable shorts and sporty influences in which not the design's signature but it's development and sustainable approach to fashion were key.
Joost van Bellen and Sander Stenger from Star Studded Studios were the geniuses behind the show-music of a.o. Sis by Spijkers & Spijkers, Claes Iversen, Francisco van Benthum and MaryMe JimmyPaul at this edition of Amsterdam Fashion Week. They've supported a lot of Dutch fashion-designers over the generic viagra professional years with their witty soundtracks, they also performed in New York, Paris and Berlin.
joost&sander from Team Peter Stigter on Vimeo.
After M-ODE kicked off on Wednesday we had a busy fashion filled day ahead on Thursday. At one o'clock in the afternoon it was Merel van Glabbeek (an her namesake womenswear label founded in 2015) who held the first fashion show as part of the many M-ODE fashion events this week. She presented her collection "Plan-B". What happens when our world becomes inhabitable? Then there's a plan B. Humanity will colonize mars. And so plan B was a collection full of experiment, opportunities and dreams. With reused materials (that make Merel such a good match for M-ODE), digital prints, striped and a padded fabric. Merel combined heavy and light materials in a colour palette of blacks, (midnight) blues and orange. See the gallery below.
After Merel van Glabbeek we paid a visit to Bas Kosters "Waste to Want" pop up atelier a few doors further. Here Bas and his team are holding their office for a few days to finish his new collection. For this collection Bas is re-using second hand clothes (collected after Kingsday's flea markets) and turning them into his signature designs. Designs he'll be showing on Saturday night during his big catwalk show at the Zuiveringshal. Expect a lot of color, costumes and craziness! Bas as we know him, but even more sustainable this time around.
Ajbilou Rosdorff surprised us later that afternoon when she had a group of Vogue dancers presenting her latest collection. Their moves, their looks and the loud music made everyone in the audience go wild. And although we might have been a little distracted by the crazy dancing the clothes sure looked bad-ass too.
A intimate presentation by HACKED by_ (founded as an answer to the constant overproduction in fashion) was our final stop for the day. Even before their international launch in Paris (the next day) designers Alexander van Slobbe en Francisco van Benthum presented their vision, way of working and their latest collaborations with ASN Bank and H&M at M-ODE. They showed their latest designs and spoke of their way of upcycling; showing their ideas on how the lavish fashion system can be changed from the inside.
An inspiring day it was. In terms of fashion as well as sustainability. Such great, green ideas, so much creativity. It's hard to even imagine fashion (shows, week) without the sustainability mindset. This should (could?) be the standard. We're excited to see what M-ODE and their designers/initiatives have in stores for us the next few days. Stay tuned!